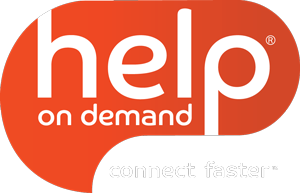 Joseph L. Covell has been a proud partner of https://www.healthcare.gov/ since it's very start in 2013! Joe and his assistant Robyn helped thousands of consumers over the years as well as trained other brokers on how to enroll consumers and how to identify the best products to support different needs!
When searching for Healthcare.gov online, please beware of "impersonator" websites that appear in your search results. Your data will likely be sold, and you will receive hundreds of calls and emails.
Below, please see how you can ensure that Joseph L. Covell or Parslee Robyn Knauss (depending on your resident state) is your broker. There is never a cost for our service as brokers are paid by the health insurance carriers, and your cost is the same whether we are attached to your Healthcare.gov account or not.
Please note we are ONLY paid by the health insurance carriers for the year-round help and services we provide if our information appears under "Is a professional helping you complete your application."
Joseph L. Covell – NPN#: 16623825
Robyn Barto – NPN#: 18726174
Healthcare.gov is not meant for everyone. If your income (Modified Adjusted Gross Income based on your Federal Income Tax filing) is too low or high to qualify for the "Advance Premium Tax Credit (APTC)" otherwise known as a "subsidy", you may be better-off applying directly through the insurance carrier. We can help you do this through our secure carrier portals. If your income is too low to qualify, you may also explore eligibility for your state Medicaid program. We can help or direct you to the right place, no matter your situation! We do not charge any fees for our time or service!
Step 2: Login into your existing account, or create a new one, as applicable.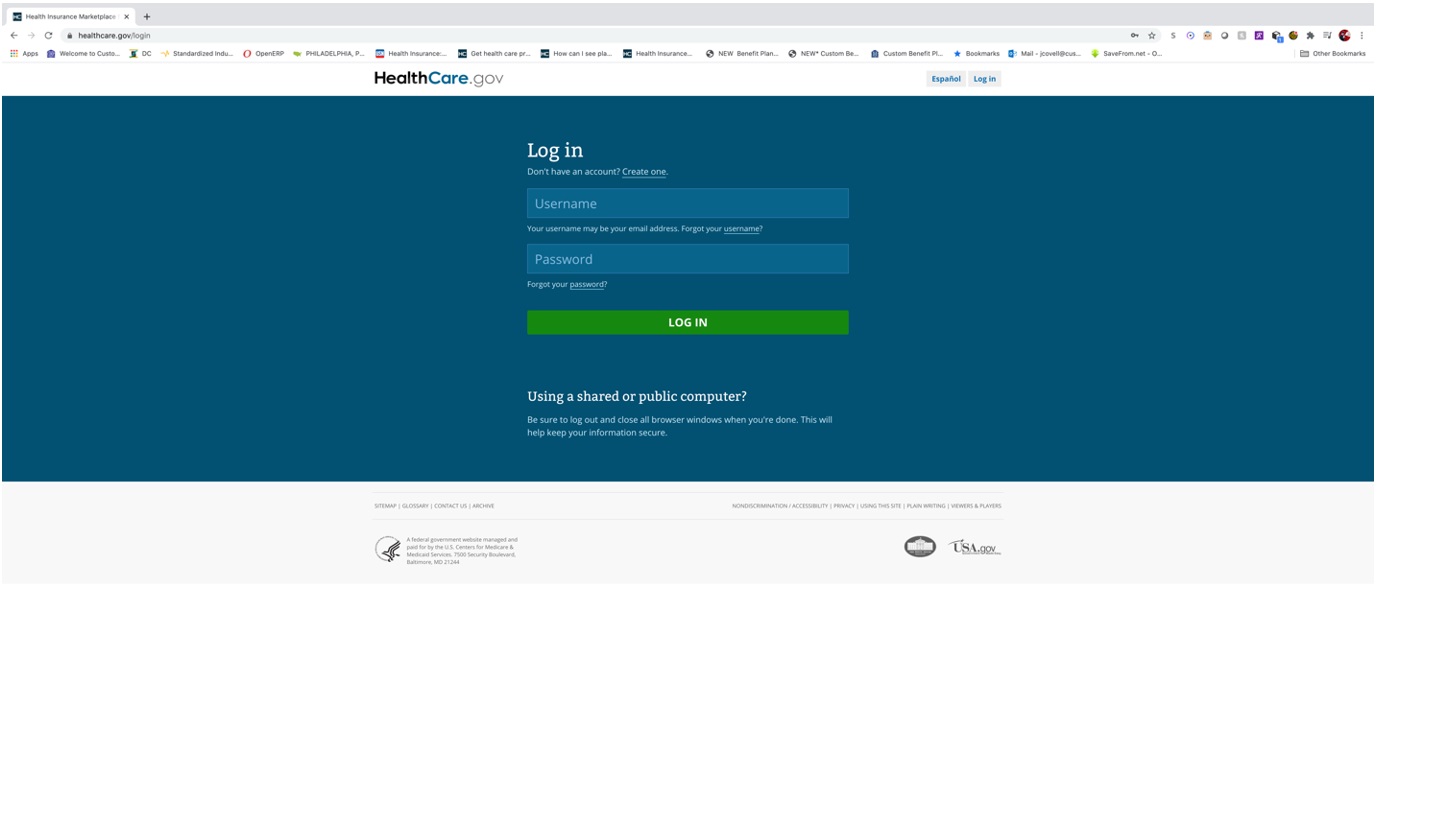 Step 3: Start a new application or click on your prior application.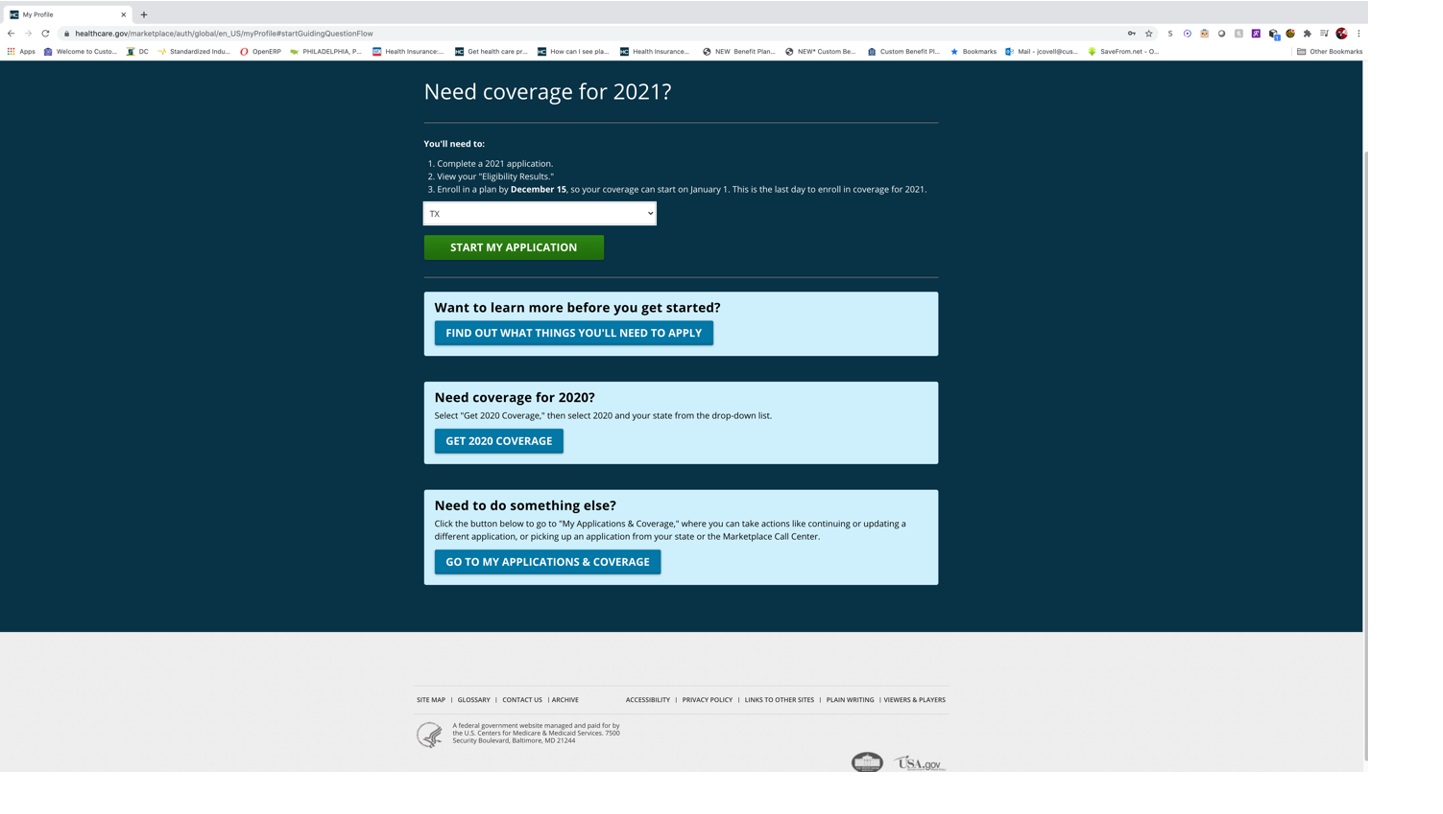 Step 4: Begin the application. There will be a section called "Application Help." Click "Yes" for Joseph L. Covell or Parslee Robyn Knauss to be your agent and help you year-round.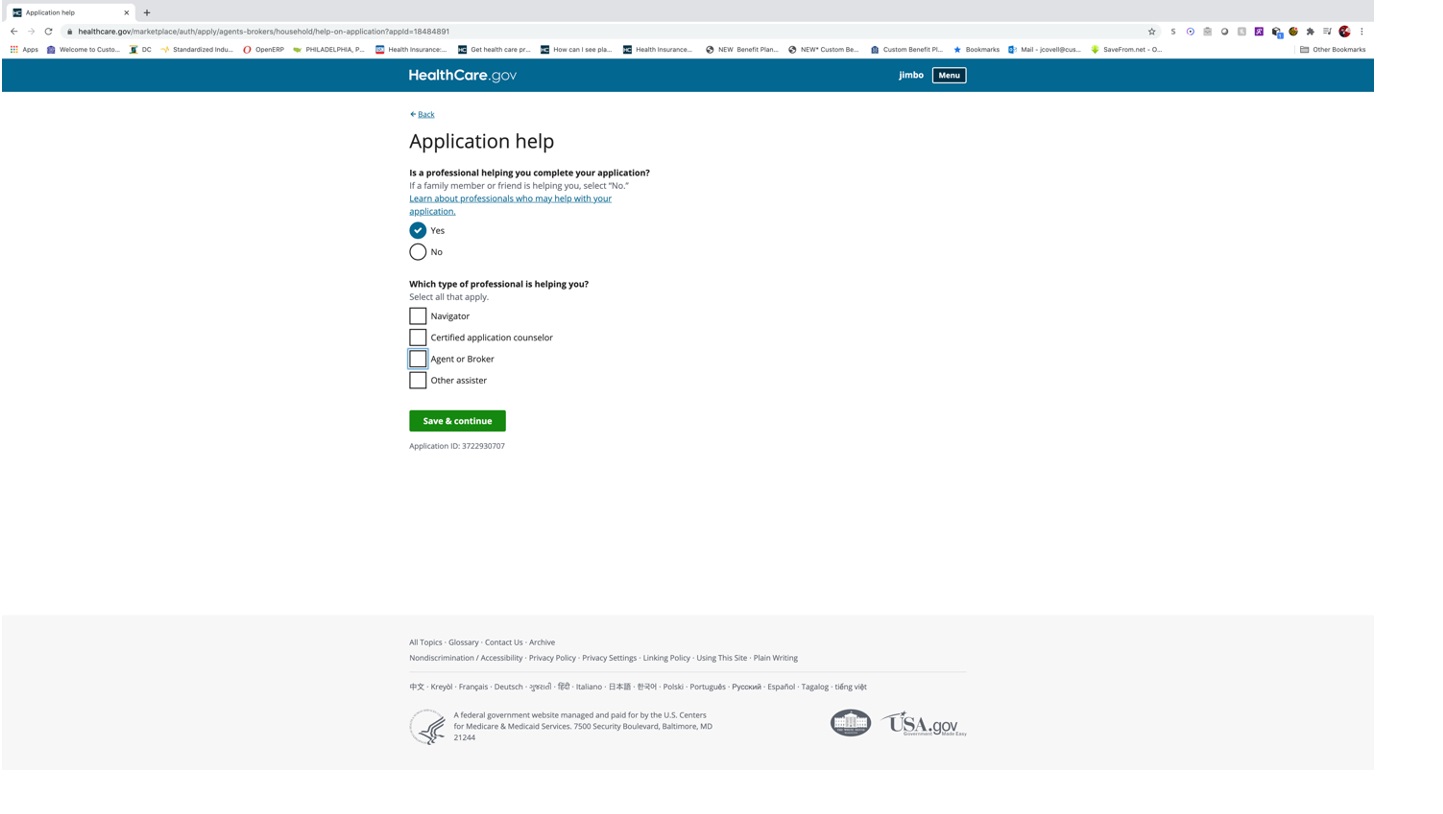 Step 5: Select "Agent or Broker" in order to enter Joe or Robyn's information.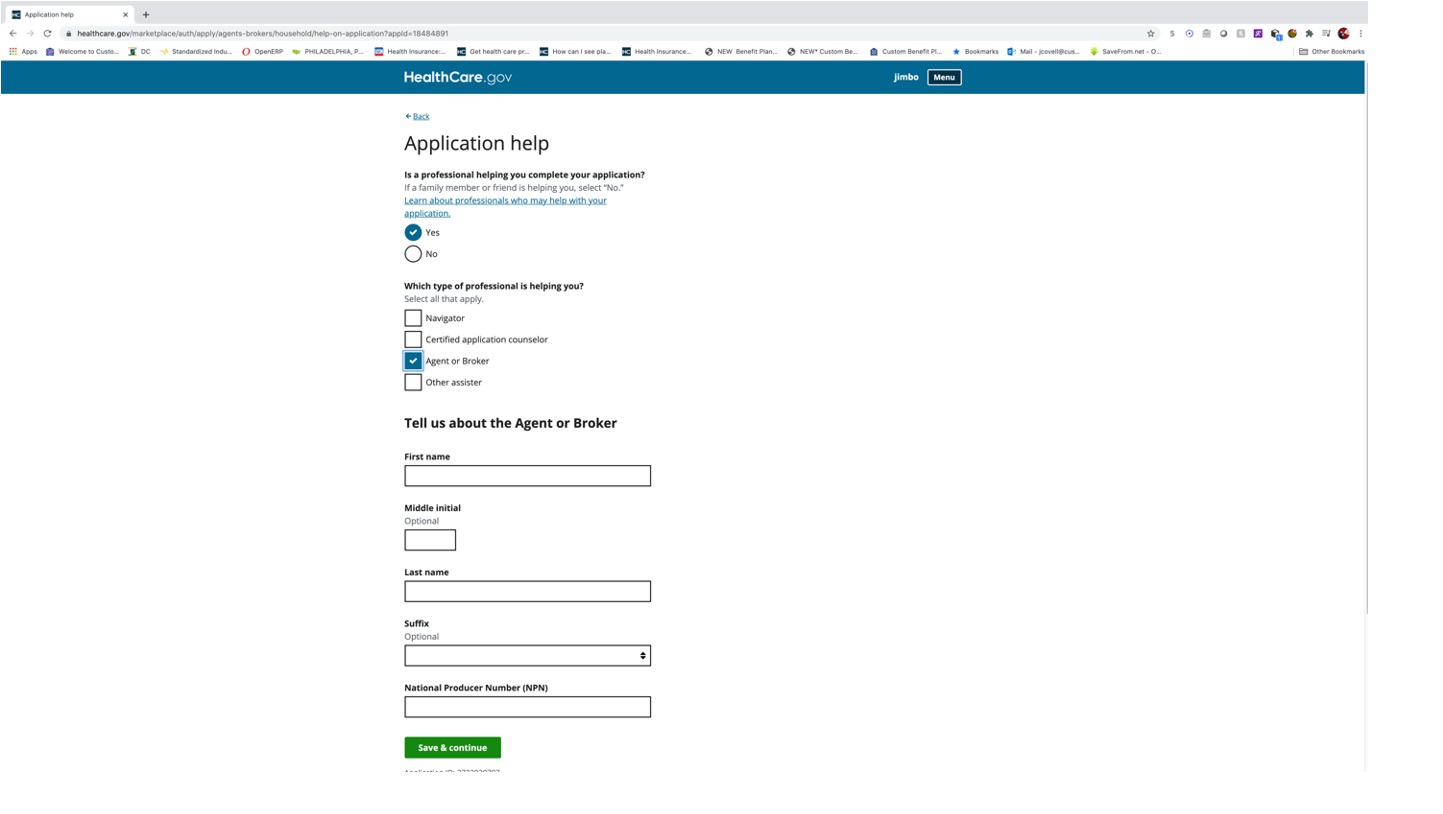 Step 6: Fill out the following information and click "Save & Continue" when complete!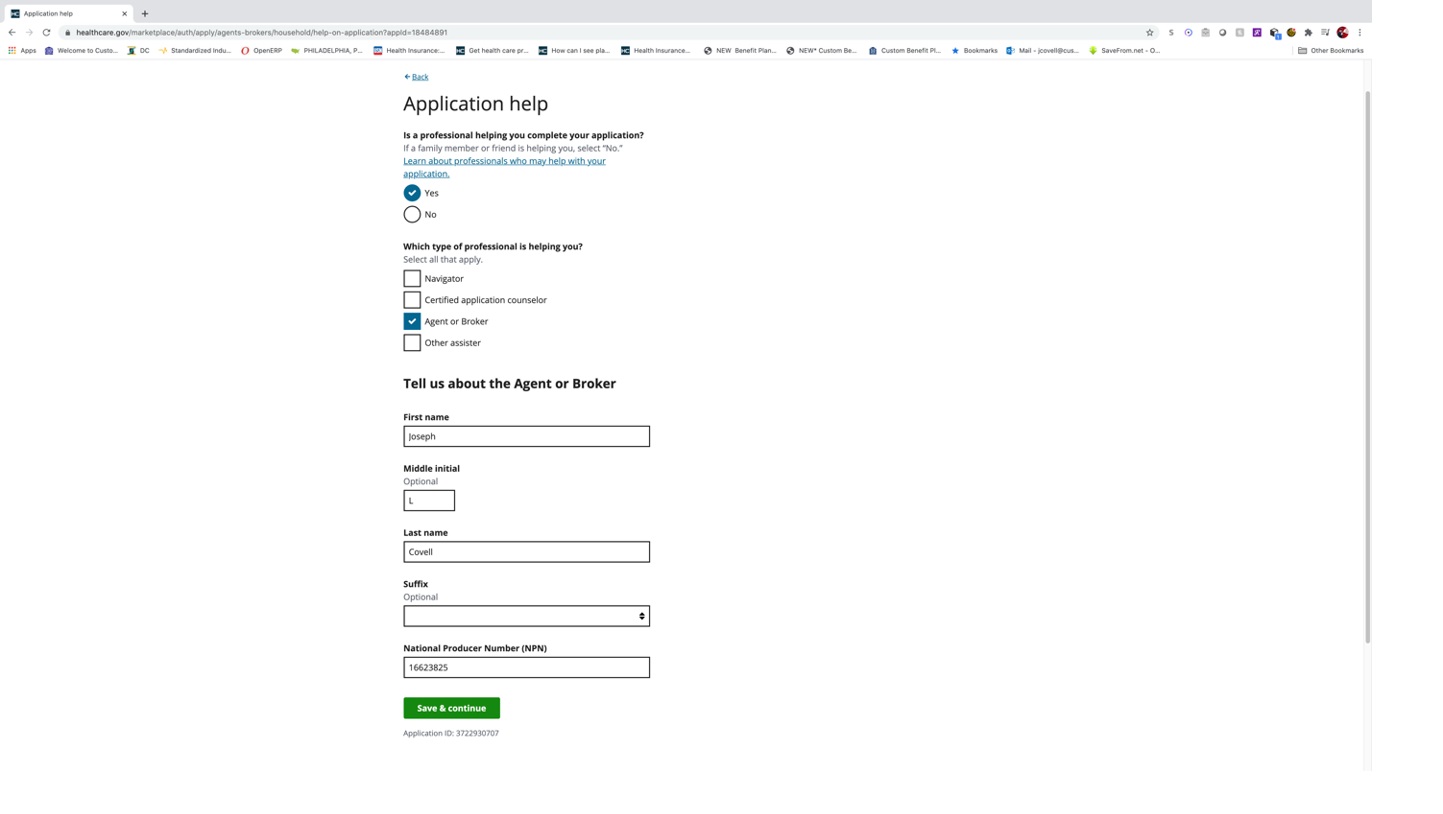 For Joseph L. Covell:
First name: Joseph
Middle Initial: L.
Last Name: Covell
National Producer Number: 16623825
For Robyn Barto
First name: Robyn
Middle Initial:
Last Name: Barto
National Producer Number: 18726174
From this point you can either start or continue an application or have us do it for you! You will see everything we do on your behalf with your complete permission. You can always change your mind and restrict this access.
Click "Healthcare.gov" in our footer under "Privacy Statements and Policies" to learn how we protect your data in complete compliance with Healthcare.gov